Nacho Vidal in shape for Survivor Spain
You may already know it, but just in case you don't, Nacho Vidal will be one of the contestants on the reality show Survivor Spain that will hit our tellies (Spanish channel 5) on April 9th. Nacho was one of the first contestants to be confirmed. Since then, he hasn't stopped working out at the gym to improve his physical condition. He even reminisced his past as a legionnaire to recover his survival and companionship instincts, which will certainly help him on his way to win the show.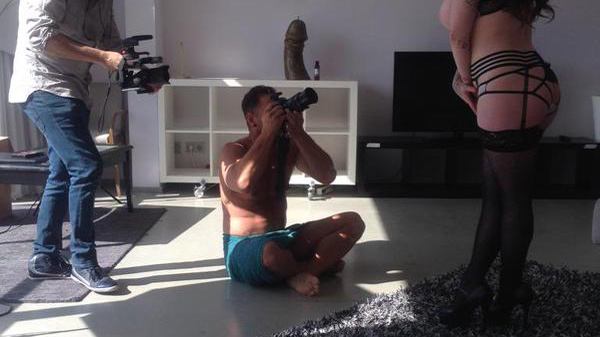 Furthermore, Nacho shot lots of fresh and new material for his fans, which will be released at CumLouder shortly. The pace of work he has experienced lately, has been absolutely crazy because he filmed almost every single day a scene. The reason why he worked so hard is because there is only one purpose in his mind: fighting and competing until his last breath.
Nacho will go on this adventure with nine other contestants that have been confirmed so far. They'll take a flight way to Honduras, where they'll have to compete, survive, live together and of course, deal with the terrible mosquitoes, the hard conditions on the island and the more than extreme challenge to get themselves food by fishing, hunting or looking for whatever eatable they can find.
We already know it will be impossible for Nacho to maintain his excellent physical condition and that he will have lost some weight afterwards. Although, there is something we know he won't lose, besides his sense of humor, and that is his sexual power. That's what has led him to success through his 20 year long career as a porn actor, porn producer and director of porn movies, which can be enjoyed in our video section together with other kind of content.
So, do not worry for Nacho and support him in this new adventure on Survivor Spain that will get its premiere on 04/09.
13-06-2017 09:42
Lol, you think he'll KICK some ass? Knowing him he'll get distracted and be disadvantaged by having to spend most of his time with his blood in his cock and not his brain, especially everytime he has to walk behind a woman, or work with one :)
Love his work.
13-11-2016 11:48
Go and kick some ass on Survivor . Always tell the people I know about the, " number porn-star ever" when porn is the subject. Most all agree that you are awesome and become loyal fans. Great movies and entertainment. Thank you Nacho for your service!
11-09-2016 12:12
Hola nacho :) Exelente actor
14-08-2015 12:24
nacho I watched every video you posted on social media. I got couple questions. first how can you get all those girls? second i am 20 now, do u think i should get my PHD degree for engineer or should i study and love those girls? last how can you fuck all those girls and still be able to do what you want to do? aint you get tired? thx for reading my questions hope you reply! GG
22-07-2015 09:44
Hello nacho
how to by ur dirty underwears and dirty black socks
hope you feel good
27-04-2015 13:58
Hello nacho
I hope you are doing well there into the island I think it's cool, you participate in Survivor 2015 "Just be yourself Nacho, good luck and I hope you feel good when you are home again and record multiple movie.
Best regards Torben